Can I say enough about
this club
?? I joined it for 2012, and have enjoyed all 3 of the shipments so far. There's one more shipment left for 2012, and I don't know what other luxury fibers and treats she can cram into this year! I wish I were at home to post pics of my goodies... but let's just say that it has included an oversized skein of worsted weight Merino/Silk (50/50 blend, and when I say oversized, I think it was 800 yds!!), locally sourced Oregon Cormo, Alpaca/Silk, Merino/Cashmere/Silk, fair trade alpaca, indie made stitch markers, indie sock project holder, patterns, Japanese handkerchief, and more... all wrapped with love from Sharon, the creative mastermind behind StitchJones.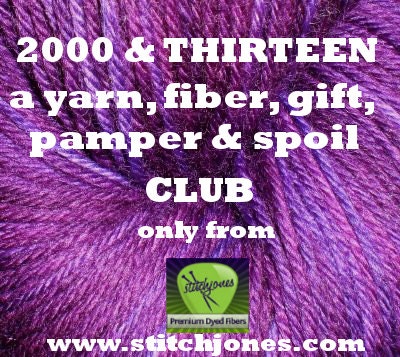 The club sign ups are open now through Jan 1, 2013. However, space is limited, and if she fills up, you may miss out on some fantastic goodies! StitchJones... where color goes to eleven!! :o) Go
here
if you need them shipped to you.
Here
if you happen to be local to Portland/Hillsboro/Forest Grove area. :o) And enjoy!!